I really wanted something to cover the window in the dining room because it has a not-so-steller view of a brick wall.
I don't really like venetian blinds and Chris hates curtains so a roman blind seemed like an obvious compromise. Right? Right.
After searching the interwebs I fell in love with this one from Restoration Hardware. Of course I did. It would cost over $500. Have I mentioned I have ridiculously expensive taste?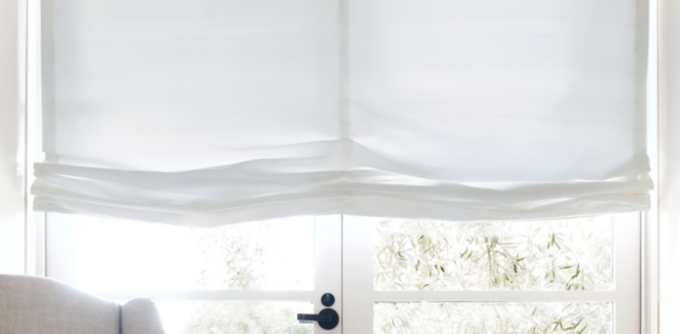 So, being the cheap creative person that I am I immediately thought "well, I could make that. How hard could it be?" . Why is this always one of the first things that pops into my head? Ok, let me put it this way…making your own roman shade is not terribly hard, but it's also not exactly easy.
To illustrate this point, my first attempt was terrible.
My fabric was too sheer, the bind tapered down the window (apparently I can't measure) and the relaxed look just looked really, really messy.
My second attempt was MUCH better. I followed the tutorial from Brown Paper Packages. Amazing. I measured very carefully and I used a heavier, textured fabric that created a more tailored look.
There ended up being some puckering so it's not PERFECT and It doesn't have the same "oh yes that breeze is from the ocean just steps from my living room" feel like the Restoration Hardware shades, but it works just fine for us.